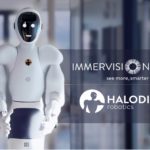 For podcast #80, I had the chance to speak with Patrice Roulet Fontani Vice President, Technology and Co-Founder of ImmerVision based out of Montreal.
After completing his Master's degree in image processing and computer graphics, Patrice joined the INRIA, contributing to research in the robotic surgery field. He also co-founded Immervision where he leads the engineering team.
In addition, Patrice contributes to IP growth and the adoption of Immervision's technology by global corporations. He has overseen the integration of wide-angle imaging technology in numerous industry verticals and is also an IEEE Senior Member, invited speaker at various conferences, and co-author of multiple publications and patents.
Questions:
Tell us about Immervision, and what you do with regard to vision systems for robotics?
What unique research/work are you doing in the field of Robotics, and in particular for vision systems?
What are you seeing as the biggest challenge for vision systems in robotics?
What makes your approach different?
Explain, why robot vision must integrate with human vision. Provide a solution to overcome this challenge.
Can you elaborate on the problem of dual computer and human vision, and what you are seeing as the most viable solution?
With over 20 years of innovation, Immervision creates solutions that see beyond human vision. Its Deep Seeing technology and renowned experts in wide-angle optical design and image processing enable smart devices with superhuman eyes to capture high quality visual and contextual data. The company invents, customizes, and licenses wide-angle lenses and imaging software technology for AI, machine vision and user applications, from capture to display, in the mobile, automotive, robotics, security, and other industrial and consumer product industries.
Enjoy the podcast. Thanks for subscribing, thanks for listening.
Regards,
Jim
Jim Beretta
Customer Attraction Industrial Marketing & The Robot Industry Podcast
Thanks to Patrice Roulet Fontani, a very professional Paige McEachren, and our partners: A3 The Association for Advancing Automation and PaintedRobot.
If you would like to get involved with The Robot Industry Podcast, would like to become a guest or nominate someone, you can find me, Jim Beretta on LinkedIn or send me an email to therobotindustry at gmail dot com, no spaces.
Our sponsor for this episode is Ehrhardt Automation Systems. Ehrhardt builds and commissions robotic turnkey automated solutions for their worldwide clients. With over 80 years of precision manufacturing they understand the complex world of automated manufacturing, project management, supply chain and delivering world-class custom automation on-time and on-budget. Contact one of their sales engineers to see what Ehrhardt can build for you at info@ehrhardtautomation.com
Keywords and terms for this podcast: Immervision, #therobotindustrypodcast, Patrice Roulet Fontani
For more information: www.immervision.com.