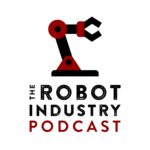 In this edition of #TheRobotIndustryPodcast I welcome Symbio Robotics' CEO and Co-founder, Max Reynolds. We have a great conversation about what Symbio Robotics is solving especially in the "final assembly" area in factory automation.
Symbio is based in San Francisco and is bridging the gap between academia and real-world applications for industrial applications. Ease of use and advanced capabilities are the bulls-eye focus for Symbio, making technology more accessible. Symbio is a software product that leverages automation more efficiently.
In the podcast we talk about:
Final Assembly as the final frontier of automation
Under performing automation
Force Feedback
Computer Vision
Machine Learning
Artificial Intelligence
Real Time information
Symbio is working with end users, and automation integrators with a focus on licensing their technology.
If you would like to find out more about Symbio, their website is at https://symb.io/ and you can check them out on LinkedIn https://www.linkedin.com/company/symbio-robotics/. Max is on LinkedIn at https://www.linkedin.com/in/max-reynolds-48073b42/
Enjoy the podcast,
Jim