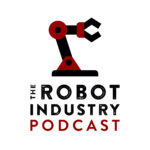 Will Healy from Balluff joins me in #TheRobotIndustryPodcast. Will is a speaker, a big believer in IoT, smart factories and passionate about sensing and sensors that are changing the way manufacturers operate with data. He is a big believer in helping manufacturers attract talent, employ innovation and STEM.
We met recently at Virtual Engineering Week VEW by informa.
We talk about: the culture of automation and the pace of change. The challenge in the disparity of the gap of manufacturing jobs available and the need for automation. Good communication in basic business management and in change management. Application specific automation examples.
Millennials, Baby Boomers and Gen X and Z and the Silver Tsunami
What's happening in the sensor industry, sensors failing and correct sensor management
Non traditional places for manufacturers to hire talent
Attracting some college "kids"
Getting involved with local manufacturing organizations
Woman in manufacturing, immigrants, hiring communities, people with special needs and creating the infrastructure for success
Mentioned in this podcast:
Beyond Vision in Wisconsin https://www.beyondvision.com/
thyssenkrupp Bilstein of America, Inc
AIMP in Cincinnati https://www.aimpmfg.com/
To get in touch with Will, he is on Twitter at https://twitter.com/willautomate on LinkedIn at https://www.linkedin.com/in/willhealyiii as a millennial, use email last 🙂
Thanks to our partners, A3 The Association for Advancing Automation and PaintedRobot.com
Enjoy the podcast,
Jim / Customer Attraction & The Robot Industry Podcast
Our sponsor for this episode is Ehrhardt Automation Systems. Ehrhardt builds and commissions turnkey automated solutions for their worldwide clients. With over 80 years of precision manufacturing they understand the complex world of automated manufacturing, project management, supply chain management and delivering world-class custom automation on-time and on-budget. Contact one of their sales engineers to see what Ehrhardt can build for you at info@ehrhardtautomation.com