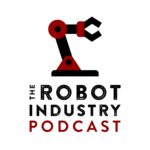 In this edition of #TheRobotIndustryPodcast, we address the challenge and the business of developing advanced intelligent autonomous robots with RE2's Jorgen Pedersen. One of the guiding principles at RE2 is to make the world a better and safer place: saving lives or improving quality of life.
At RE2, they solve some of the most difficult problems in automation and robotics. They operate in aviation, defense, energy, and now in medical device.
We talk about:
EOAT end of arm tools for robotics and change out tooling
Intuitive user interfaces
Attracting and retaining talent in the automation industry
Building robotics for extreme environments
Some of the most complex and challenging autonomous robots project including underwater mine disposal
The culture of innovation and empowering people to do their jobs better is a theme throughout the podcast.
RE2 Robotics is located in Pittsburgh, PA. The company website is https://www.resquared.com you can find them on LinkedIn at https://www.linkedin.com/company/re2/
Enjoy,
Jim