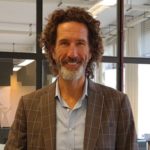 Welcome to A3 The Robot Industry Podcast, Edition #67
Herbert ten Have is an innovative business leader with more than three decades of experience in building high-tech products and services. In his career, he has held leadership positions, from Product and Marketing Manager to International Sales and Marketing Director. As a serial entrepreneur, Herbert has successfully founded and run multiple high-tech companies. He effortlessly rides the wave of inherent challenges that come with technology and loves sharing his expertise. Today, as CEO of Fizyr, Herbert is committed to building the best vision software product to enable Fizyr's partners to provide cutting-edge robotic picking solutions for the logistics industry.

• Tell me a bit about Fizyr.
• How did you get started?
• What are the big challenges?
• Won the big Amazon pick challenge
• Partnership with AWL?
• Tell us a bit about some challenges in use cases getting involved in?
• Truck unloading, depalletizing, and truck unloading what is most popular?
• What are the industry challenges?
• How do you charge - how does a company subscribe to your service? How do you work with integrators?
• Can you name some of your partners or integrators?
• How has pandemic changed the new normal, esp in Europe?
• People used to online shopping? End user structure changing
• Tell our audience about the Fizyr Team
• Team activities
• How do you engage with your people?
• Where is Delft and why Delft?
• What do you like to do when you are not selling AI software?

Enjoy the podcast.

Jim
Customer Attraction Industrial Marketing & The Robot Industry Podcast

Thanks to Herbert ten Have and our partners, A3 The Association for Advancing Automation and PaintedRobot.
To get in touch with Herbert, you can find him on LinkedIn or contact the company on their website.
If you would like to get involved with The Robot Industry Podcast, would like to become a guest or nominate someone, you can find me, Jim Beretta on LinkedIn or send me an email to therobotindustry at gmail dot com, no spaces.

Our sponsor for this episode is Ehrhardt Automation Systems. Ehrhardt builds and commissions turnkey automated solutions for their worldwide clients. With over 80 years of precision manufacturing they understand the complex world of automated manufacturing, project management, supply chain and delivering world-class custom automation on-time and on-budget. Contact one of their sales engineers to see what Ehrhardt can build for you at info@ehrhardtautomation.com

Keywords and terms for this podcast: Fizyr, Deep Learning Vision Software, Herbert ten Have #Netherlands #Delft #therobotindustrypodcast