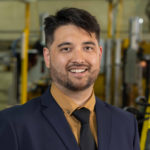 I was thrilled to be able to catch up with Ethos Automation's Calvin Kimura recently, and I was able to record this podcast live at Ethos Automation's facility in Brantford, ON which is an easy drive from London. Calvin is an automation specialist and also co-founder of Ethos Automation. He is a graduate in the electromechanical engineering technology program from Humber College. Calvin also worked in Tier 1 Automotive for Magna Corporation.
There is a lot going on at Ethos, for such a young automation company. For example both Calvin Kimura and his business partner, Peter Botros were named winners in Manufacturing Automation's Top 10 Under 40 program and are setting the bar for young professionals across the industry in automated manufacturing.
Calvin was also recently on a webinar with Manufacturing Automation magazine's editor Sukanya Ray Ghosh on the Future of Automation Virtual Event 2022, and I was involved as well.
Here are some of the questions that we talked about for podcast #83:
Can you describe the types of automation that you are building?
Are there any specific tools or technologies that you are seeing now, that maybe you weren't a few years ago?
Machine vision?
What kind of trends are you seeing in automation for welding?
Are parts getting bigger or smaller?
Are projects getting simpler or more complex?
What about industry 4.0 and maybe iiot in the machines that you are building?
A question about robots, etc. Bigger, more of them, etc.
Do customers need more help, more training?
To find out more about Ethos Automation or you would like to reach out Calvin, here is his LinkedIn profile can also reach out at him and his team via their contact form.
Enjoy the podcast. Thanks for subscribing, thanks for listening.
Regards,
Jim
Jim Beretta
Customer Attraction Industrial Marketing & The Robot Industry Podcast
Thanks to our partners: A3 The Association for Advancing Automation and PaintedRobot.
If you would like to get involved with The Robot Industry Podcast, would like to become a guest or nominate someone, you can find me, Jim Beretta on LinkedIn or send me an email to therobotindustry at gmail dot com, no spaces.
Our sponsor for this episode is Ehrhardt Automation Systems. Ehrhardt builds and commissions robotic turnkey automated solutions for their worldwide clients. With over 80 years of precision manufacturing they understand the complex world of automated manufacturing, project management, supply chain and delivering world-class custom automation on-time and on-budget. Contact one of their sales engineers to see what Ehrhardt can build for you at info@ehrhardtautomation.com
Keywords and terms for this podcast: Ethos Automation, Calvin Kimura, #ethosautomation #robotwelding #therobotindustrypodcast