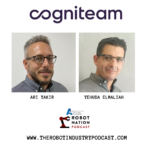 For The Robot Industry Podcast #71, I welcome Yehuda Elmaliah, CEO of Cogniteam and Ari Yakir, VP of Research and Development. Yehuda is formerly Dean of Computer Science at COMAS near Tel Aviv, Israel. He is a leading expert on algorithms for robot autonomy. Ari Yakir has over 15 years' experience developing and managing cutting -edge algorithms and products for autonomous robots.
Cogniteam, the company has been developing artificial intelligence technologies for robots for over ten years, working with blue chip companies on mapping, navigation and autonomous decision-making.
They have packaged their unique suite of algorithms together as a single product, bringing cloud-based robotic artificial intelligence solutions in one easy-to-use place that allows robot startup companies to get to market faster, develop, prove and scale.
Here are some of the questions that I ask Yehuda and Ari:
How did you get started?
What are the industry's biggest challenges from your perspective?
Who are your bulls eye customers?
Tell us a bit about some challenges in use cases getting involved in?
Can you name some of your partners or integrators?
How do you sell to your perspective clients?
How has pandemic changed the new normal?
Your growth plans?
How can people get a hold of you?
What do you like to do when you are not programming robots
To find out more about Cogniteam in Israel, check them out. If you would like to reach out Ari or Yehuda, here are their LinkedIn profiles.
Enjoy the podcast. Thanks for subscribing.
Regards,
Jim

Jim Beretta
Customer Attraction Industrial Marketing & The Robot Industry Podcast
Thanks to Dor Livny from Cogniteam and our partners, A3 The Association for Advancing Automation and PaintedRobot.
If you would like to get involved with The Robot Industry Podcast, would like to become a guest or nominate someone, you can find me, Jim Beretta on LinkedIn or send me an email to therobotindustry at gmail dot com, no spaces.
Our sponsor for this episode is Ehrhardt Automation builds and commissions turnkey automated solutions for their worldwide clients. With over 80 years of precision manufacturing they understand the complex world of automated manufacturing, project management, supply chain and delivering world-class custom automation on-time and on-budget. Contact one of their sales engineers to see what Ehrhardt can build for you at info@ehrhardtautomation.com
Keywords and terms for this podcast: Cogniteam, Ehrhardt Automation Systems, Nimbus Software, Autonomous Robots #therobotindustrypodcast