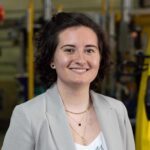 For podcast #87, I invited Alessia Alfieri to join me at their automation facility. Alessia is a Project Manager at Ethos Automation Inc. located in Brantford, Ontario. She has worked in Tier 1 Automotive industry where she met her now new boss, Peter Botros.
Alessia, welcome to the podcast, thanks for joining us.
Here are some of my interview questions:
Was there an influence in your life that led you to engineering? Were you just good at all the STEM subjects?
Did your co-op experiences help you define your interests more clearly or help you figure out what you DIDN'T want to do?
So how does being a Project Manager differ from other engineering jobs you've held in past?
As a woman in male-dominated profession and workplace, can you talk about some of the challenges you may have had?
What advice would you have for young women considering entering engineering? Manufacturing?
What about ETHOS made you want to work there?
When you are not saving the world what do you like to do?
How can people get a hold of you?
If you would like to find out more information on Ethos Automation, you can reach out to Alessia on her LinkedIn profile.
Enjoy the podcast. Thanks for subscribing, thanks for listening.
Regards,
Jim
Jim Beretta
Customer Attraction Industrial Marketing & The Robot Industry Podcast
Thanks to our partners: A3 The Association for Advancing Automation and PaintedRobot.
If you would like to get involved with The Robot Industry Podcast, would like to become a guest or nominate someone, you can find me, Jim Beretta on LinkedIn or send me an email to therobotindustry at gmail dot com, no spaces.
Our sponsor for this episode is Ehrhardt Automation Systems. Ehrhardt builds and commissions robotic turnkey automated solutions for their worldwide clients. With over 80 years of precision manufacturing they understand the complex world of automated manufacturing, project management, supply chain and delivering world-class custom automation on-time and on-budget. Contact one of their sales engineers to see what Ehrhardt can build for you at info@ehrhardtautomation.com
Keywords and terms for this podcast: Ethos Automation, Automation Systems Integrators, Alessia Alfieri, #therobotindustrypodcast